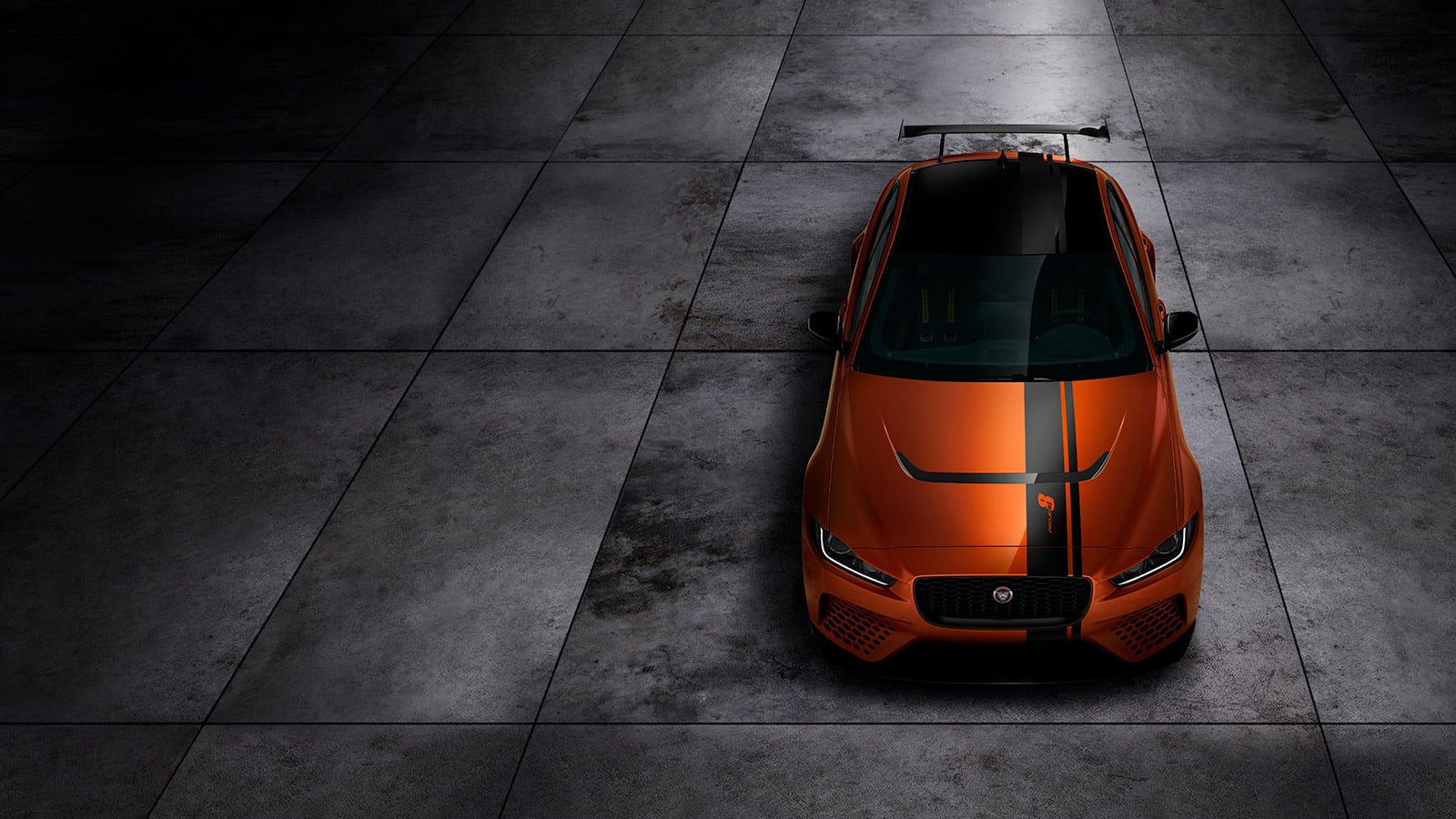 XE SV PROJECT 8
The most extreme performance Jaguar ever takes on the Nürburgring Nordschleife.
THE MOST EXTREME PERFORMANCE JAGUAR EVER
With 600PS from a 5.0 litre Supercharged V8 engine, Project 8 is the most powerful road legal Jaguar in history. Total production will be strictly limited to 300 cars worldwide, each one hand-assembled at the SVO Technical Centre in Warwickshire, England. Choose between the two-seat Track Pack version and a road-biased four-seater – both exclusively available in left hand drive. Prototype versions have been running at proving grounds across Europe, the most famous of which is the Nürburgring Nordschleife. Project 8 has achieved the fastest lap ever for a Jaguar on the Nordschleife, faster than any other four door production-intent sedan in history and faster than many renowned supercars.
SPECIAL VEHICLE OPERATIONS
SVO creates the ultimate Jaguar vehicles: the fastest, and the most luxurious, incorporating the highest levels of technology. Our specialist engineers, designers and craftsmen enable our most discerning clients to indulge their passion for Jaguar. The result is always exclusive, desirable and collectible.
PERFORMANCE AND CAPABILITY

Engineered to be the world's most exhilarating sports saloon, Project 8 uses motor sport derived suspension and a modified All Wheel Drive system for outstanding driver feel and agility. Damper mounts are ball-jointed to improve response and there are two ride heights – one for the road and a 15mm lower setting for the track.

SUPERCHARGED HEART. ALUMINIUM ARCHITECTURE

The heart of the car is Jaguar's legendary supercharged V8. But speed and driving exhilaration aren't just about power. Jaguar's pioneering Lightweight Aluminium Architecture combined with Project 8's extensive use of carbon fibre – for the bonnet, bumpers, fenders, side skirts, front splitter and rear aero wing – keep weight to a minimum.
REAR WING

Project 8's body has been extensively redesigned to offer aerodynamic performance essential for a 200mph car. This includes an adjustable deep front splitter, rear diffuser and a large adjustable rear aero wing. The wing's angle of attack can be fine tuned either to reduce drag or maximise downforce – producing up to 122kg of downforce once you reach 186mph.

BRAKES AND WHEELS

Saving 18kg, Project 8 has the largest and most technologically advanced brakes ever fitted to a Jaguar – vast 400mm carbon ceramic discs with huge 6-piston calipers up front. Lightweight forged alloy wheels and specially developed Michelin Sport Cup 2 tyres combine superior handling with outstanding grip and comfort.

A REAL CONNECTION TO THE ROAD

All Wheel Drive ensures superb responsiveness, traction and agility. No Jaguar feels more 'alive'. The handling is rear-drive biased, like a two-door supercar. The Intelligent Driveline Dynamics includes an Electronic Active Differential, as part of the advanced computer-controlled drive set-up. For ultimate performance, Project 8's uniquely tuned version of Adaptive Dynamics includes a new Track Mode.

RACING SEATS

Carbon fibre racing seats are available for those who want the two-seat track-oriented Project 8. They're fitted with four-point competition harnesses. A multi-point harness retention hoop replaces the rear seats. The road-biased version of Project 8 features four seats trimmed in Ebony leather with Oyster contrast stitching. The front pair are special lightweight magnesium-framed Performance seats.

TOURING SPOILER

Available on 15 limited-edition Project 8 builds, a fixed touring spoiler delivers a more understated profile and enhanced rear visibility, while maintaining the vehicle's aerodynamic performance and explosive acceleration. Although maximum down-force potential is reduced, high-speed stability remains supremely assured.

WHEELS

The special lightweight forged alloy wheels are stronger and lighter than conventional cast alloy, delivering superior handling. The wheel's unique design reduces drag by 7 counts, while specially developed Michelin Sport Cup 2 tyres combine outstanding grip with comfort – making them perfect for road or track.
TO THE POWER OF 600PS
Project 8 is the fastest Jaguar saloon ever. Its 5.0 litre supercharged V8 produces 600PS and 700Nm of torque, making it the most powerful engine ever fitted to a Jaguar road car. Maximum speed is 200mph and 0-60mph takes just 3.3 seconds. While the car's 8-speed transmission can manually paddle shift in just 0.2 seconds – faster than the blink of an eye.
PLEASE NOTE
We use YouTube videos on our website. To view these videos we require you to accept the cookies which YouTube will set on your device. These are categorised as non-essential functional cookies by Jaguar.