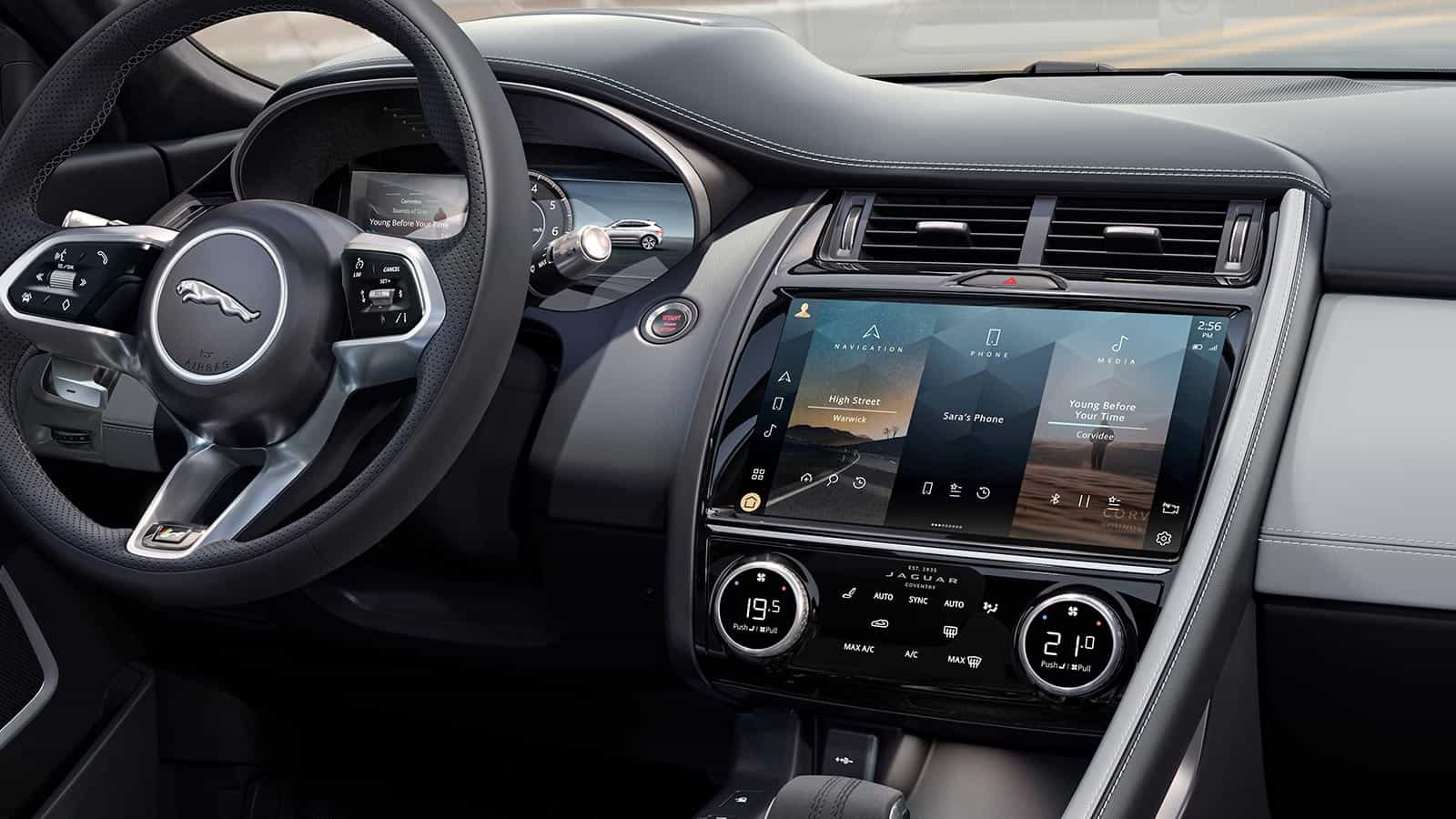 PIVI AND PIVI PRO SUPPORT
HOW TO USE YOUR NEW JAGUAR INFOTAINMENT SYSTEM AND CONNECTED SERVICES
HOW TO USE PIVI, PIVI PRO AND CONNECTED SERVICES
DATA PLAN
With a valid subscription, Pivi Pro1 and Online Pack2 provide all the data you need for an even more connected journey. The initial one-year Online Pack2 subscription and the three-year subscription for Connected Navigation Pro1 give you access to anything you might want on your adventure. Enjoy limitless Online Media Music2 streaming and Live Apps with a 4G connection.
SET UP INCONTROL
Enable your Jaguar's connected services and subscriptions by setting up and linking an InControl account. Visit the My Jaguar InControl website to create an account, or click the link in the email sent by your Retailer. Once you have created and verified your account, follow the setup instructions on the screen and link your Jaguar car to your account.
FOLLOW THE WIZARD
The Start Up Wizard allows you to easily configure and setup the Pivi and Pivi Pro1 Infotainment systems, including the pairing of phones with the system and setting radio favourites.

If your vehicle is equipped with Pivi Pro1, on your first use of the vehicle, you will be able to create a profile linked to your InControl account, enabling a variety of additional connected services and applications.
CONNECT YOUR ACCOUNTS AND DEVICES
CONNECT YOUR ACCOUNTS

Get the most out of your Online Pack2 by connecting your InControl account so you can browse and connect third party content and services. From Pivi Pro's app drawer, select the 'Connect Accounts' icon and search for the app you want to connect. You can either scan the QR code with your smartphone or select 'Email Me' to send a link of the login site to your email.

Once connected, you can immediately start using the service in your vehicle. Linked services will appear as an icon in the app drawer or as a media source in the media player.

CONNECT YOUR SMARTPHONE

With the Smartphone Pack, you can use your apps safely and conveniently via Pivi and Pivi Pro1 using:

- Apple CarPlay®3
- Android AutoTM 4

For Apple CarPlay®3, ensure you have the latest version of iOS installed and Siri® enabled on your iPhone. For Android AutoTM 4, ensure you have the latest Android Auto app installed and Google voice assistant enabled on your Google device. Connect your device to the interface panel in the centre console storage compartment using a certified USB cable.
INCONTROL REMOTE APP
You can download and log into the InControl Remote App5 using your account credentials, which provides the ability to remotely interact with your vehicle wherever you are. The InControl Remote App5 is free to download and available for compatible Apple and Android devices. Download the latest version by searching for 'Remote App' in the AppStore or Google Play Store.
IGUIDE
The iGuide App is a virtual guide and digital owner's manual, making it simple for you to find and understand the key features and controls of your new Jaguar and InControl – all via your mobile device, ensuring the answer to any question is always to hand. Search for 'Jaguar iGuide' in the AppStore or Google Play Store to download the app.
WIRELESS SOFTWARE UPDATES
The latest software updates are available through software-over-the-air technology. Wireless software updates keep your Jaguar up to date and ensure it only gets better with time.
AUTOMATIC MAP UPDATES
With a valid Connected Navigation Subscription in place, maps will be downloaded and updated for you automatically. Should a full update be required please follow the process below.
UPDATE YOUR MAPS
For further assistance you can contact your local Retailer.
FIND A RETAILER
Select your preferred location
Australasia and Pacific code: AP
Europe and Russia Code: EU
Middle East and North Africa code: MENA
South East Asia code: SEA
DOWNLOAD SUCCESSFUL?
Please connect the USB stick to your vehicle's user interface panel. Once connected follow the onscreen prompts to transfer the updated maps to the vehicle.
DIDN'T WORK?
Please check you have downloaded the latest version of the Map Downloader app.
Or, try the download again?
HOW DO I UPDATE THE NAVIGATION SYSTEM MAPS?

As long as there is an active connected navigation subscription1, maps will be updated automatically. A connected navigation subscription is usually included for the initial warranty period, renewal of the subscription allows for continued automatic map updates.

HOW MANY BLUETOOTH DEVICES CAN BE CONNECTED OR PAIRED?

A total of 10 Bluetooth devices can be paired, with two devices being paired at the same time – these can be phones or media devices. The first device paired to Pivi/Pivi Pro1 will be designated as your primary device. This can be changed in the settings by going to Settings > All > Connectivity > Bluetooth > and click on the device you wish to change.

HOW DO I RENEW INCONTROL SERVICES?

When your InControl services reach their expiration date, you will receive an email with a link for you to renew InControl services. If you have not received this email or if the link has expired, please contact Customer Services.

HOW DO I REMOVE PERSONAL DATA?

Before you sell your vehicle on, you will need to delete your vehicle data from your InControl account. Log into the InControl portal, select 'Vehicle Setting' on the right-hand side and select the 'Remove Vehicle' menu. Click on 'Remove Vehicle' to remove all vehicle data from your InControl account. You will be asked for your InControl account password. In Pivi/Pivi Pro1, go to Settings > All > Profile Settings to select a profile to delete. If you have recently purchased a used vehicle, please contact the Retailer.

DO I NEED TO PROVIDE A MOBILE DATA SIM CARD?

No, your vehicle comes with an embedded SIM card which allows the use of:

1. Connected Navigation1 system's connected features/services
2. Wi-Fi Hotspot6
3. Online Pack2 features/services

These services require a valid subscription to be in place. Mobile data is included in the subscription, so no additional contracts or SIM cards are required as long as the subscription is running.

HOW DO I SELECT DIFFERENT MAP VIEWS IN THE VIRTUAL INSTRUMENT DISPLAY?

To change the layout of the Interactive Driver Display, access the settings through the steering wheel. Additional Driver Display preferences may also be available depending on the vehicle. These can be accessed from the main Pivi Pro Settings > Navigation > Driver Display.
Discover the full Jaguar model range.

Optional features and their availability may differ by vehicle specification (model and powertrain), or require the installation of other features in order to be fitted. Please contact your local Retailer for more details, or configure your vehicle online.

In car features should be used by drivers only when safe to do so. Drivers must ensure they are in full control of the vehicle at all times.

Pivi and InControl features, options, third party services and their availability remain market dependent – check with your Jaguar Retailer for local market availability and full terms. Certain features come with a subscription which will require further renewal after the initial term advised by your Retailer. Mobile network connectivity cannot be guaranteed in all locations. Information and images displayed in relation to the InControl technology, including screens or sequences, are subject to software updates, version control and other system/visual changes depending on options selected.

Apple CarPlay is a Trademark of Apple Inc. Apple Inc end-user terms may apply.

Android Auto is a Trademark of Google LLC.

1Connected Navigation will require further subscription after the initial term advised by your Jaguar Retailer.
2Fair use policy may apply. Standard 1 year subscription, which can be extended after the initial term advised by your Jaguar Retailer.
3Your car is prepared for Apple CarPlay. The services offered by Apple CarPlay depend on feature availability in your country, please see https://www.apple.com/uk/ios/feature-availability/#apple-carplay for more information.
4Your car is prepared for Android Auto. The services offered by Android Auto depends on feature availability in your country, please see https://www.android.com/auto/ for more information.
5Remote contains subscription services that can be extended after the initial term advised by your Jaguar Retailer. The Remote App will need to be downloaded from the Apple App Store/Google Play Store.
6Fair use policy applies. After 20GB of data is used within a month, data speeds and functionality on vehicle may reduce for the rest of the month.
PLEASE NOTE
We use YouTube videos on our website. To view these videos we require you to accept the cookies which YouTube will set on your device. These are categorised as non-essential functional cookies by Jaguar.